Share:
---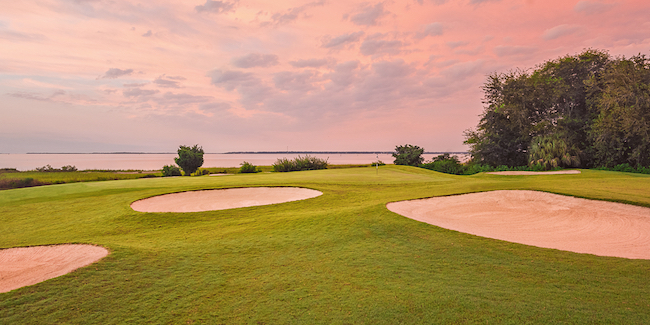 Patriots Point Links
Great Golf. Great Views
By David Theoret
With today's environmental red tape, Patriot's Point Links would never have been built. Thankfully for golfers, when the course was built in the late 70's, not as much priority was given to saving what might someday be an endangered species of insect, reptile or flora. Consequently, plans to build a golf course at the foot of the Cooper River Bridge just minutes away from downtown Charleston were allowed to move forward and Patriots Point Links became a reality.

From an aesthetic standpoint, Patriot's Point is on a par (pun intended) with some of the greatest golf courses in the US. Far and away, the most scenic hole on the course is number 17, but much more on that later. The course sits on the edge of Charleston Harbor and offers clear views of the city, Fort Sumter and ships arriving and departing for destinations around the world. And, if you look out across the harbor from the 18th green, you can see the USS Yorktown, an aircraft carrier named after the Battle of Yorktown of the American Revolutionary War.

Patriots Point offers a great practice facility where you can hone your game. They offer the largest all-grass lighted driving range in the Charleston area. In fact, this practice area is large enough to host a regional qualifying round of the Remax Long Drive Championship a few years ago. The range has a variety of targets so that you can work on everything from a 60° wedge to a driver. The practice putting green is in as good a shape as the greens and offers the same speed and consistency as what you'll encounter on the course. There's also a short game area with targets to work on chip shots of 30 - 70 yards.

The golf course has been winning over the hearts of local golfers and visitors since 1979 when renowned golf course architect Willard Byrd undertook the task of creating this masterpiece. In 2001, the National Golf Course Owners Association voted Patriots Point Links South Carolina's Course of the Year, and number 17 is a perennial favorite for "Best Par-3 in the Lowcountry." Patriots Point Links offers four sets of tees, making the course both playable and enjoyable for golfers of all abilities. From the Blue Tees, the course measures 6,955 yards with a course rating of 73.2 and a slope of 133, while the ladies typically play from 5,562 yards (70.8/115). Most male golfers will find that the White Tees (6,393/70.6/129) will give them all they can handle because, when you factor in the wind, Patriots Point Links can play a lot longer.

The course is built on land reclaimed by the dredging efforts that once opened shipping channels in the Harbor. Because of the settling that has occurred over the years, the fairways can be a little bumpy but are no less playable. In fact, they can add an extra challenge by not always leaving you with a flat, easy to play lie. The fairways are in good shape and well maintained and the greens are some of the best in the area.

Most Memorable Hole
Number 17: Par 3, 130 yards (White Tees). Sorry other 17 holes, this one is a no-brainer. Number 17 has been voted the "Best Par 3 in the Lowcountry" year after year and it is easy to see why. If you're into naming holes, you could call this one: "Hit the Green or Lose a Ball!" You're playing to a small, fairly flat green surrounded by marsh and water. Add in wind that can come howling in from just about any direction and you're in for a real treat. Once you get on the green - regardless of the number of shots it took you to get there - do a 360 and take in all the views. You'll forget your score.

(Other) Favorite Par 3: Number 14, 168 yards (White Tees). Number 14 is the start of what local golfers call "The Swerve." The stated yardage of 168 is relative and will undoubtedly play longer or shorter because you are at the mercy of the wind. If you can remember which way the wind played on number 13, here it will be the opposite. So, what's most important is club selection; make sure you hit enough to get there. You may not feel the wind on the tee because of the surrounding foliage but believe me, it's there!

Favorite Par 4: Number 5, 405 yards (White Tees). One of the reasons that this is the #1 handicapped hole on the course is that the prevailing winds make a long hole that much longer. If you can keep it low of the tee and scorch it between the two fairway bunkers, you'll enhance your odds at par or better. From there you will probably have a mid to long iron into an elevated green which is going to require another extra club. If the pin is in the back left, golfer beware - it falls away sharply. Best bet is to play to the middle of the green take a two putt and walk away - QUICKLY!

Favorite Par 5: Number 18, 512 yards (White Tees). A daunting task to end the day. The best way to score well off this tee is to hit your best drive of the day, preferably with a little bit of a draw. That's not an easy thing to do with the water of Charleston Harbor down the left and a grove of mulberry trees on the right. Although it's not the longest par 5 on the course, getting on in two depends greatly on which way the wind is blowing. This makes it wise to leave an approach shot from a manageable distance. Accuracy is imperative on your approach shot unless you prefer to hit your fourth shot out of a bunker. There are 8 sand traps that surround the green, which slopes from back right to front left. A front pin placement can provide a harrowing end to an otherwise successful round.

Last Word: By definition, Patriots Point Links lacks several key elements to make it a links-style golf course, but it is about as close as you can get in the US. What it does have in common with some of the world's most famous links courses is the wind. No matter what time of day you play, the ever-changing winds are going to play a factor. They typically sweep across the harbor and give the course a different look and feel from day to day. This course has more of a parkland feel, with several holes running parallel to each other and no homes along the fairway. There's also a lot of water out here, however most it is lateral and doesn't - or at least shouldn't - come into play. Bunkers have been strategically placed along the fairways and around the sides of the greens, but in most cases, the fronts are wide open, leaving the seniors favorite par saver, the bump and run, in play.

Something else that makes it a favorite for both local golfers and resort guests is that this it's not unusual to get around this track in four hours or less. It's also not uncommon to find temperatures on the point 10 degrees cooler than the inland areas during the summer. Because of this and the proximity of greens to tees, you'll find a lot of walkers out here in the summer. And they still maintain a 4-hour pace of play.

If you're looking to play somewhere that is not only visually appealing but is also a shot-maker's haven, then consider playing your next round here. For more information on Patriots Point Links, visit their website: www.patriotspointlinks.com or give them a call at (877) 709-5053.


Article Tags: South Carolina golf; Charleston Golf; Charleston Golf Courses; Patriots Point; Patriots Point Links
Revised: 11/16/2016 - Article Viewed 15,211 Times - View Golf Course Profile
Share Comment
Written By: David Theoret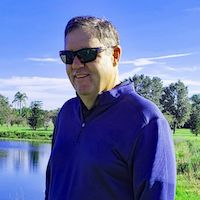 David Theoret has been in the golf and golf travel industry for over 10 years, primarily selling online advertising. For the past seven years, he has also been a golf writer, reviewing golf courses, resorts, destinations, equipment, golf apparel, and training aids - the latter of which never seems to help. David's articles and reviews have been posted on many golf travel and equipment websites.

Growing up in Southwestern Ontario, Canada, it was naturally assumed he would play hockey. Beginning at the age of 3 and continuing into his late 30's, he did just that. However, after one too many pucks to the head, he realized that golf was a lot easier on the body (whoever said hockey players were slow) and took the game up.

After moving to Florida and accepting a position with TravelGolf Media (now part of GolfNow) his love for the game grew exponentially. Most Saturdays you will find him on a course somewhere in Florida or on the practice range reinforcing his bad habits. David plays to a 10 handicap - unless there is money involved in which case it goes considerably higher. He currently resides in Lakeland, FL with his wife Belinda and their two "kids", Madyson and Molly.